We recently found a presentation that Rancho Mission Viejo Company gave to the Orange County Board of Supervisors on or around July 13, 2012 regarding progress on the Ranch Plan, and specifically, Sendero.  The full presentation (in PDF format) is available here.  And a companion video is available here.  We've summarized some of the highlights below.
First, it contains the most detailed rendering of Sendero we've seen yet, albeit still too small to discern many details:
And here is a version we've annotated with what we believe we know about Sendero:
We are still short on details, but there are some interesting tidbits to gleam from this map.  Until now, this was the most detailed rendering of Sendero we had seen.  We've recently learned that there will be a community "Sendero Farm" in addition to customary amenities.  And the 15 acre community park at the corner of Ortega and Antonio looks to be a sports park with a baseball diamond, what looks like a soccer field and perhaps amphitheater-like seating.  Do you see the thin path that runs just to the north of San Juan Creek, passing under the Antonio Parkway bridge?  We've heard rumors that Rancho Mission Viejo will contain a network of NEV (neighborhood electric vehicle) paths that will facilitate car-less travel among the villages and shops of Rancho Mission Viejo.  The thin path we've identified on the map looks to be such a path, and if the map is accurate, it will connect residents on both sides of Antonio and presumably, to future planning areas of the Ranch Plan.  As we've previously surmised, there will be a trail that connects Sendero to Ladera Ranch — we think integration between the two communities is a good thing, and hope that this trail becomes an important linkage between the two communities, not an afterthought needed to comply with the Ranch Plan Development Agreement.
What else can we deduce from this map?  Sendero looks to be fairly high density.  Look at this early (i.e., pre-real estate market crash) map of Planning Area 1.  Notice the greater separation between housing clusters, and the greater prominence of neighborhood parks and greenbelts.  We might have preferred the older version, but one can't argue with the economy.  Rancho Mission Viejo needs to make money, and in today's real estate market, that means higher density products.
We've heard that the ten acre retail center at the corner of Antonio and Ortega will be styled after Ladera's Bridgepark Plaza, and will feature a grocery store and a drug store as anchor tenants, surrounded by your typical food and service businesses.  This would also be a good thing as the Ortega Highway corridor (including south Ladera) is woefully underserved by retail establishments, and lacks a convenient grocery store.
We're not the professionals here, but given the retail center's location at the entrance of "Rancho Mission Viejo" as well as its location on the banks of the San Juan Creek and across from the new community sports park, we hope Rancho Mission Viejo and DMB Associates put considerable effort into designing the aesthetics, not just the economics, of the retail center.  More than any other structure or development, this retail center at the intersection of Antonio and Ortega will greet visitors to the future city and establish the culture and character of the place.  If it looks like a typical suburban strip mall, the community will suffer.  As for us, we'd love to see a subtle, yet sophisticated homage to the western roots of the Ranch.  Perhaps something that evoked the Caspers windmill or the historic cow camp.  A western theme would tie in well with San Juan Capistrano's image and be a welcome departure from the sea of Santa Barbara and Tuscan style elevations that have overrun southern California.  Something that was evocative of the Mission San Juan Capistrano and its rustic adobe style would be equally appropriate.  Regardless, this retail center is an important geographic marker and we hope Rancho Mission Viejo Company does it right.
What else can we learn from this presentation?
It emphasizes the respect for the land held by the O'Neill family and Rancho Mission Viejo Company.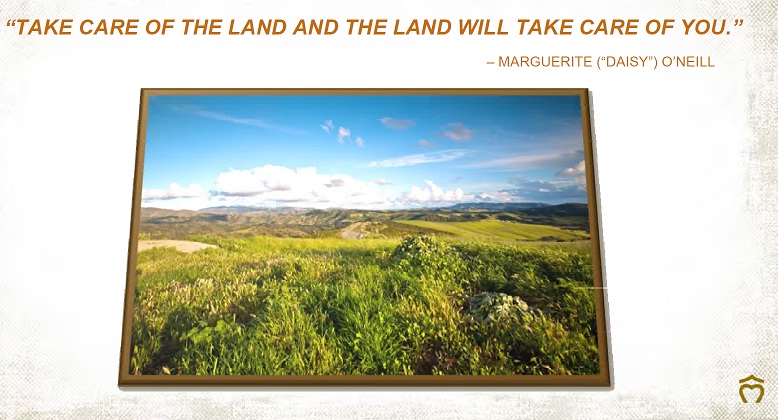 It highlights Rancho Mission Viejo's historic relationship with the area and their successful track record developing Mission Viejo (100,000 residents in Orange County's 27th city), Rancho Santa Margarita (47,000 residents in Orange County's 33rd city), Las Flores (6,000 residents) and Ladera Ranch (15,000 residents).
It also introduces the community of Rancho Mission Viejo (and provides the strongest evidence yet that if this area becomes a city at some point in the future, it will likely be named Rancho Mission Viejo).
Following some images of the Ranch Plan map and the Sendero map above, the presentation highlighted "four unique characteristics" of Rancho Mission Viejo:
Ranch: "we are the historic Rancho Mission Viejo"
Reserve: "We will offer more of it in more ways"
Social Experience: "more gestures, more events, more fun, more people"
Life Central: "mountains, beach towns, shopping, schools, all the good stuff all around us"
While such slides are long on concept and short on detail, it does provide some insight into how Rancho Mission Viejo intends to market Sendero — in some ways, as an antidote to the dysfunctions of modern life.  The presentation goes on to emphasize the public/private partnerships and agency cooperation thus far, and to highlight some infrastructure successes.  It closes with an anticipated timeline:
Project announcement – March 2012
Start of home construction – Fall 2012
Village of Sendero opening – Summer 2013
Home Buyer Move-in – Fall 2013
Here we go!