We've been talking more about Planning Area 2 of the Ranch Plan lately, and judging by the search results, more of you are looking for information about PA2 as well.  We introduced you to Planning Area 2 here, and updated you (and revealed its name, Esencia) here.  Below is a map of the full Planning Area 2 that we've previously shared: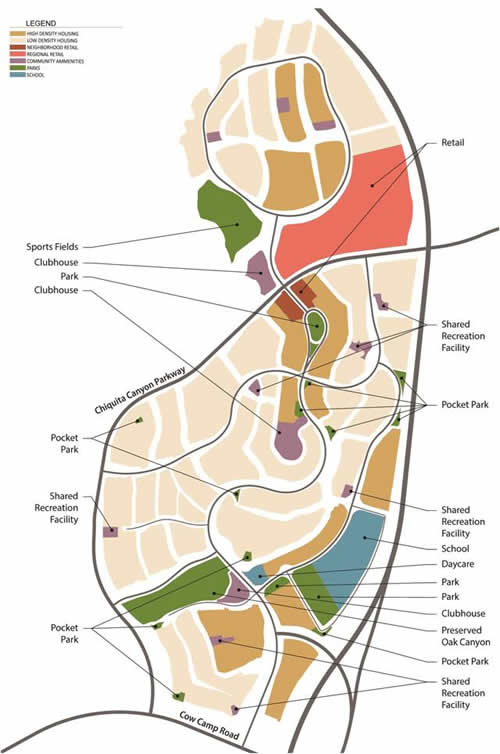 A Register article on Planning Area 2 managed to sneak out from behind the paywall.  There's not much in it that we haven't previously reported, but the article provides confirmation of a number of things we've suspected:
When complete, PA2 will be three times the size of Sendero, with 2700 homes plus an apartment complex on 860 acres
Esencia will contain a Capistrano Unified K-8 school expected to open for the 2016-2017 school year (and Don Juan casts his vote for the school's name here)
Access via Cow Camp Road will be completed in early 2015
Infrastructure in Esencia will be funded in part through Mello-Roos fees assessed on the homes
Anticipated grand opening in late 2015
Age qualified housing is a big mix of the Ranch Plan, and Esencia will include 55 and older housing like Sendero.  But unlike Sendero, the plan seems to build a series of age qualified neighborhoods within the larger community, rather than setting the senior housing in a gated enclave like Gavilan.
Finally, as we previously reported, Esencia will be built in two large phases, with the first phase (likely the southern portion of Planning Area 2) covering 464 acres and featuring 870 of those 2700 homes, plus the apartment and the school.  We suspect the map below reflects the first phase of Esencia.  Note the location of the age qualified (AQ prefix), market rate (MR prefix) and affordable (AFF) housing, where the affordable housing site is likely the referenced apartment complex.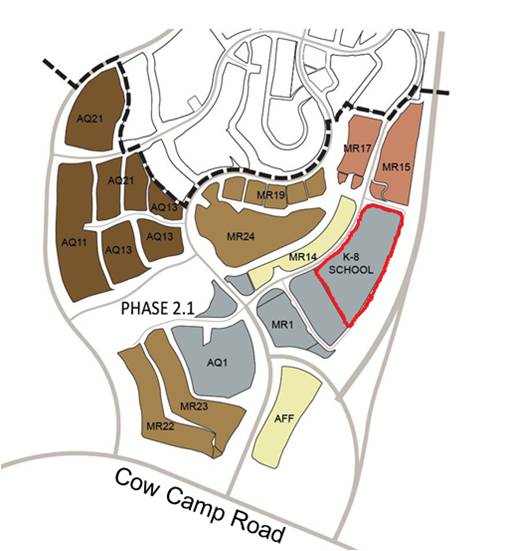 Read the full article at the Register here.