The publishers of the Ladera Times seem to be a little upset by our comments about their newspaper.  They ran a poll question, asking readers whether they agreed with "a local blogger" who thought the Ladera Times was amateurish, and the publisher of the Ladera Times also posted about it on his Facebook page.  It was not our intention to offend them.  On the contrary, the overall point we were trying to make was positive.  It was a story about the Ladera Times considering a name change and expansion into the Rancho Mission Viejo developments.  That original article is here.  And below is what we said:
For all its typos and amateurishness, we like the Ladera Times for the same reason we like the local Patch sites and the Picket Fence newspapers in San Juan Capistrano, San Clemente and Dana Point. Local news is relevant and important. Local is what makes a community unique. While we wish the Ladera Times website was updated more frequently, we're glad they are here and we look forward to each new issue.
Anyway, the Ladera Times posted their poll question and some people voted.  We managed to capture a screen shot of the poll results on Monday, February 17th.  It's a good thing we did, because the poll was quickly removed shortly thereafter.  I guess the Ladera Times wasn't getting the answer they expected:
Let us be clear:  we want the Ladera Times to succeed (just as we've been rooting for the local Patch news sites to succeed).  Newspapers are not our competition.  We are a blog, and we have no desire whatsoever to be a newspaper.  Yet, Ladera (and Rancho Mission Viejo when it is built out) needs a newspaper — it needs a local hub for information.  LaderaLife is insular and limited in scope, and it is inaccessible to readers who are not HOA members.  The Ladera Times is all we have (other than an occasional anonymous local blogger, but goodness knows you can't trust them!).  Since the Ladera Times indicated that it is open to feedback by asking the poll question, we'll offer some.
First, it goes without saying but to be taken seriously, the Ladera Times needs to improve the quality of the writing.  Typos are amateurish when it comes to publishing a newspaper.  A simple spell check would eliminate most of them, and a proof-reader would handle most of the rest.  Should I really have to say that?
But that's not what we are really talking about.  The question is how can the Ladera Times be more impactful for the good of the community?
In today's media world, information is instant and interactive.  Even local information.  We would encourage the Ladera Times to develop an active social media presence for instant dissemination of breaking news,.  In addition, the Ladera Times needs to maintain a constantly (and consistently) updated website and ought to provide a forum for community discussion. Having a stale web site that looks like it was designed on MySpace is amateurish.  There have been periods of months — many months — during which the Ladera Times website was not updated.  They have updated the website three times this week (including once to remove our poll question!), so maybe they are going to address this.  But they had a 2012 election poll question posted on the front page well into last year.  Their most recent Facebook post is this one from May 2012.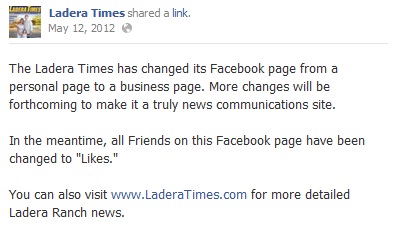 The Ladera Times publishes interesting, relevant articles that deserve to be circulated and discussed, but that's difficult to do without a real-time online presence.  We would like to promote, link to and comment upon Ladera Times stories, but the cumbersome web site format makes any interaction with the articles nearly impossible, even when the site is current.  It is impossible to reference articles when the Times hasn't even published its most recent edition (or six).  For the record, you will notice that we do not "copy and paste" articles from other sources.  We link to them, and we only quote what we need to make our points.  We always refer our readers to the primary source because we believe those who write the stories deserve the traffic and readership that those stories generate.  So this isn't about that.
We would also expect a newspaper to allow for comments, and to provide discussion boards to serve as an online hub for community debate and discussion.  It's unclear why the Ladera Times doesn't do this, but it would be a valuable community service if there was a free, public forum for online conversations about Ladera.  A number of Ladera neighborhoods and surrounding communities are adopting NextDoor, a community based social media platform that provides this functionality.  Ladera Times' window may be closing.
Finally, Ladera Ranch residents need an advocate for their interests.  The Ladera Times could fill that role, but it hasn't really assumed a visible position of influence within the community.  As a result, an important function is being neglected and the community has suffered.  This isn't to say that the Ladera Times is obligated to be a community advocate, but it could be.  Residents of Ladera Ranch are subject to the actions of a number of large, opaque organizations: LARMAC, LARCS, Rancho Mission Viejo, Westar, Capistrano Unified, Orange County Sheriff's Department and the Orange County Board of Supervisors.  The Ladera Times has the opportunity to be the independent voice of the residents here, to attend Civic Council or CUSD Trustee meetings and ask questions, to push Rancho Mission Viejo for answers about its development plans, to take positions on issues related to local governance and safety in Ladera Ranch instead of publishing irrelevant personal diatribes about national politics, and to make sure that residents of Ladera Ranch are well-informed about issues important to them.  Part of the reason for the choice of content at the Ladera Times may certainly be the result of staff and budget constraints, but it seems odd to commit to publishing a newspaper if you don't intent to engage in much original journalism.  In fact, we started this blog to provide some of the missing information that seemed important to us as residents of South Orange County.  And we are undeniably amateurs!  Frankly, we look forward to the day when this blog is unnecessary because the professional journalists are doing all the work.
The point is, there is an opportunity for the Ladera Times to make a difference in the lives of Laderians.  Does the Ladera Times have the resources to implement any of our suggestions?  We don't know.  Do they even want to?  We don't know.  We hope they do, and in doing so, we hope they grow and become successful.  In fact, we hope they become so successful that this blog becomes unnecessary and ol' Don Juan can hang up his writing pen and spend more time at the Swallows Inn.  We were a little surprised that the good folks at the Ladera Times made an issue (albeit a short-lived one) out of our comment.  Hopefully, our feedback will be accepted in the spirit in which it is provided: with sincerity and the hope that we can work together to make Ladera Ranch a better place to live.