Part of Rancho Mission Viejo's media strategy is to place "suggested posts" (Facebook-speak for ads) in the newsfeeds of potential buyers.  The ad uses pictures of a green orchard, a field of wild poppies or a shaded path lined by majestic oak trees and invites viewers to:
"Like" this if you like open space.
As of this morning, over 2,000 people have "liked" Rancho Mission Viejo's images of open space.  And really, who doesn't like vistas like these?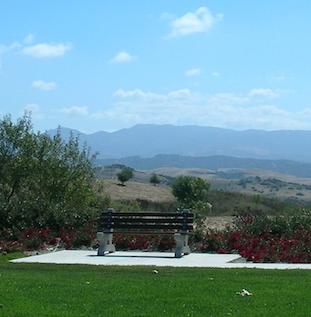 When it talks about open space, Rancho Mission Viejo Company is referring to the "Reserve at Rancho Mission Viejo."  The Reserve is the entity that will eventually manage over 20,000 acres of open space on Rancho Mission Viejo property.  According to its web site:
The Reserve presently totals approximately 3,336 acres including The Richard and Donna O'Neill Conservancy, the Ladera Ranch Open Space and other dedicated open space associated with the new village of Sendero on Rancho Mission Viejo. Over time The Reserve will grow to include 20,868 acres of Rancho Mission Viejo lands.
But social media is a double-edged sword.  Marketers will tell you that it creates a strong brand identity and fosters personal relationships with potential customers at minimal expense.  Others will tell you that giving the public control of your messaging is dangerous.  McDonald's found that out the hard way.  Some might remember the embarrassment endured by McDonald's when it created a Twitter channel for people to broadcast their #McDStories.  Opponents of the fast food giant soon swamped Twitter, overwhelming McDonald's hash tag with the kind of bad publicity that even P.T. Barnum might not welcome.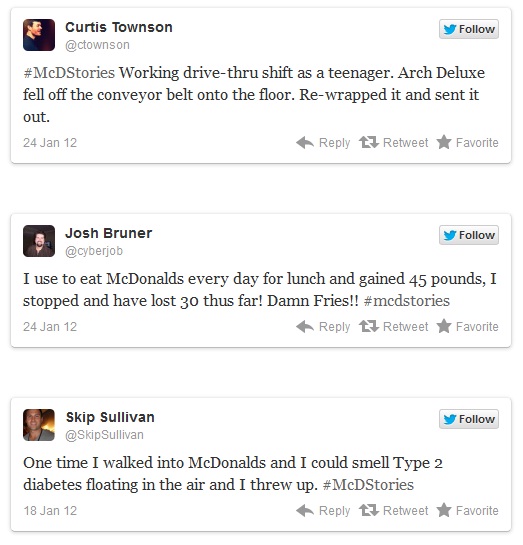 Which brings us to Rancho Mission Viejo.  Rancho Mission Viejo Company has promised us that 17,000 acres out of the 23,000 remaining acres of the Ranch will be preserved as open space, bringing the total amount of preserved land to over 20,000 acres.  In and of itself, that it an impressive contribution to Orange County's natural environment and wildlife and ought to be acknowledged.  But we are not naïve.  First, it was a negotiated term in exchange for the right to build and sell thousands of new homes.  It is also a marketing strategy.  Rancho Mission Viejo's Facebook advertising campaign illustrates that they are going to sell homes based on the promise of open space.
Not surprisingly, some of the people on Facebook aren't convinced.  To be fair, there are many positive things being said in the comments section.  Many people applaud Rancho Mission Viejo as a responsible steward of the land.  Others are excited about the development and looking forward to more information.  But there is a vocal minority emerging that is clouding the message – much like McDonald's marketing message on Twitter got clouded by its critics.  The critics of Rancho Mission Viejo largely fall into three camps:
The Good Ol' Boys (and Gals)
From Doheny to the Vintage to Cook's Corner, you've seen the south Orange County Good Ol' Boys and Gals.  They have lived a lifetime in these parts, and they remember it "back when."  For lifelong residents of southern Orange County, the changes that have occurred over the last ten, twenty or forty years are staggering.  Miles of orange groves have been replaced by miles of tract homes.  Empty surf breaks have become commercial beaches.  Sleepy country roads have become divided highways.  For old-timers, it must be sad.  Some have taken to reminiscing on the Rancho Mission Viejo Facebook page.  Examples include:
"Now imagine it covered with tract houses, toll roads and soccer fields in a few years. That's what RSM looked like when when moved to Trabuco Canyon 26 years ago."
"I remember sailing off the coast of Capistrano Beach in the 60s with my dad and you didn't see any homes, just green hillsides. The homes in CB were largely hidden. Now they build on everything, stable ground or not."
Love this a ton, remember 1960 when it was miles and many miles of this and real cattle ranches.
"No more crappy crowded homes please! Give the people some land ! Can't even drive down Ortega anymore ! Especially trying to ride my horse around sjc now, it's crazy ! Sjc was know for trails and open land ! Lets try to keep it that way!"
"Last of the old Spanish land grants, soon to be houses and stores, cattle are all but gone and more concerned about developing than Cowboying. Real shame to see it go!"
These comments aren't malicious, although they certainly dilute the intended marketing message.  Rancho Mission Viejo is trying to create a folksy image, inviting folks to come live on a ranch, not promoting the extinction of it.  Yet, the hollowness of that marketing message becomes all too clear when a chorus of San Juan good ol' boys and gals who were probably drinking at the Swallows Inn back when it had nothing on the walls are lamenting about how you've paved over their childhood home.
The NIMBYs
All together now:  NIMBY stands for "Not In My Backyard."  There is a group of people who are going to object to any development in their area no matter what.  They may mask their concerns in terms of traffic, or safety, or water rights, or ecology, or the greed of the developer, or a host of other reasons, but in reality, they want to sacrifice others' property rights in service of their perceived quality of life.  The fact is, Rancho Mission Viejo has worked for nearly a decade to obtain final approval for the Ranch Plan.  The Ranch Plan will be built and there is nothing the NIMBYs can do about it.  What's more, the Ranch Plan is the result of negotiations with the County Board of Supervisors, extensive environmental analysis, agreements with all neighboring cities, commitments to fund roads, infrastructure, schools and public safety improvements and the settlement of litigation with a coalition of environmental groups.  To our knowledge, the Ranch Plan preserves more open space as a percentage of the development area than any other master plan of similar size and scope in Orange County.  Yet, there are those who will complain, and they have turned their NIMBY grievances on Rancho Mission Viejo's Facebook page:
"is this where they are putting the strip malls along the 74 to accompany the 14,000 homes? they fought so hard to get the 241 extension to go in to support their development plans, i really hope the development all falls through"
"It is too bad they are going to build homes all over this area and increase traffic by 200%. I heard an attorney say it is not an issue because they completed traffic studies on the impact of these additional homes. He ignored the traffic impact that is already occurring."
"I cannot beleive they are "shoe horning" in 13000 people in that small area at the ortega Hwy- That is really Fu..ed up!"
"Keep it green as in the grass and not the developers pocketbooks."
"QUIT BUILDING ON IT. we live out here for a reason. we dont WANT to be Santa Ana or any of those cities."
"Rancho Mission Viejo is all about development. Open space to that company is wasted space. This is pure BS. 'Nuf said."
"'like this' for liking open spaces and your a real estate developer? I don't think so"
If Rancho Mission Viejo Company is reading the comments (and they appear to do so), they face an interesting business decision whether to delete these negative comments or let them be.  They seem to be leaving them alone, which we think demonstrates some courage.
The funny thing about NIMBYs is that it's usually the most recent residents who fight the hardest to prevent others from moving in.  "Close the door behind me," they demand.  Sure enough, many of those opposing the Rancho Mission Viejo development seem to live in Ladera Ranch, a master-planned community that itself was "open space" just 15 years ago.  One commenter noted the irony:
"The hypocritical thing I find in this post is that half the people I have seen who post it live in Ladera Ranch. The people in Southern Mission Viejo and Rancho Santa Margarita said the same thing about Ladera Ranch, and you all are the ones who increased traffic for them. Development is part of progress. Live with it, or sell your house and move back to where you came from and tear Ladera back down to the "Open Space" that you so desire."
The Inigo Montoyas
Do you remember the movie "The Princess Bride?"  Vizzini kept saying "inconceivable!" to a series of events as they actually happened.  Inigo Montoya responded "You keep using that word.  I do not think it means what you think it means."
It is clear that some of the Facebook commenters have Inigo Montoya's reaction to Rancho Mission Viejo's marketing message promising open space.
"Open space."
You keep using that word.  I do not think it means what you think it means.
Here are some examples to illustrate the point:
"I like it if I can use it. In Irvine use is restricted, parking is restricted, it's kind of a hassle. It's kind of like the "club house for the use of residents", except you have to reserve it and pay a deposit to use it. It's locked up most of the time."
"as long as it's open to the public!"
"Open space with all of the trails marked No Trespassing. Gee, thanks……
"Please open up trails for the public to use, not just home owners. teh hills are beautiful and it is a shame to have full time security guards chasing folks out. charge us if necessary, make us sign "no sue if bit by a squirrel waivers" whatever, just let folks enjoy it as Edison does the land it owns in the high Sierras around Shaver Lake! Pleeeease!"
And perhaps the funniest comment of the entire thread:
"I "like" this….I "like" open space, but when I "like" this on your page,….I feel like you're Freddie Krueger asking who "likes" children. Sorry but I grew up in them thar' hills and there are a lot less of them now, because of developers like yourselves."
The question is, what does Rancho Mission Viejo Company mean by "open" space?  Open space might mean different things to different people.  Here are some possible interpretations of open space, listed from most accessible to least accessible:
Land that is generally open to the public, weather and safety permitting.  Examples of this are Caspers Wilderness Park and Riley Wilderness Park.
Land that is set aside, immune from development.  Some, but not all of it, may be accessible via multi-use trails.  An example of this is some of the San Juan Capistrano open space.
Land that is a nature or habitat preserve and left in its natural state, but is largely off-limits to recreational use except for certain special events or docent-led hikes.  An example of this is the Richard & Donna O'Neill Conservancy.
Land that is exclusively available to the members of a private association, such as a future Rancho Mission Viejo master HOA.  Examples of this might be some of the open space in gated Coto de Caza.
Land that is not developed, but is privately owned or leased, and is generally off-limits to the general public.  An example of this is the Rancho Mission Viejo Riding Park.
Land that remains a working ranch or leased for other agricultural operations, and is off-limits to the public.  An example of this is much of the current Rancho Mission Viejo ranch land.
Rancho Mission Viejo has a history of using each of these approaches in regards to its land.  It has created truly open space for the public to enjoy by donating the land that became Caspers, Riley and O'Neill Regional Park.  It has also created open space that is not generally accessible by the public, including Richard & Donna O'Neill Conservancy.  And much of the current Ranch is open only in the sense that there are no houses on it — it remains fenced off with posted "no trespassing" signs and intimidating security guards on ATVs.  Clearly some of the commenters are concerned that the Reserve at Rancho Mission Viejo will be organized along the same model as the Conservancy, and use of the land will be severely limited.  And some Rancho Mission Viejo comments imply the open space may not completely open after all, like this one:
Rancho Mission Viejo: "This image is part of the Reserve at Rancho Mission Viejo and is in fact on Ranch property, less than a mile from the intersection of Ortega and Antonio. Residents of the villages of Rancho Mission Viejo will have exclusive benefits to access areas and trails of this sort."
What do they mean by "exclusive benefits to access areas and trails of this sort"?  Does the comment imply that all this open space will remain locked up?  Are we going to need a Rancho Mission Viejo HOA membership card and a reservation to participate in a 45 minute docent led hike scheduled for every other Saturday morning?  That isn't open space.
"Open space."
You keep using that word.  I do not think it means what you think it means.
In our opinion, the general public needs to have reasonable access to the open space, including all of the trails.  A good example is Newport Coast .  When The Irvine Company developed the 9,432 acre area that became Newport Coast, it too entered into a development agreement requiring it to set aside a approximately 75% of the land as "open space."  (The Newport Coast development agreement was an important precedent for the Ranch Plan in terms of open space/development ratios.)  What is important, however, is that the open space is available to everyone, whether or not they are residents of Newport Coast.   In our minds, Newport Coast's open space is the correct model for Rancho Mission Viejo.
Rancho Mission Viejo portrays itself as responsible developers of their land, and thus far they have not let us down.  The Ladera open space is available to everyone, not just residents of Ladera Ranch, and its trails are integrated with neighboring trails in San Juan Capistrano and Mission Viejo.  But this is a different economic climate for real estate developers, and the pressure to create a price premium for tract housing has to be intense.  We hope Rancho Mission Viejo embraces the concept that open space must be open to all, and there are good reasons for them to do so.
First, there is a strong element of fairness to the issue of open space accessibility.  Neighboring cities, particularly Mission Viejo and San Juan Capistrano, are going to shoulder the traffic burden resulting from the Ranch Plan development.  Existing Capistrano Unified Schools are going to shoulder the burden of new students from the new communities.  It is only fair that neighbors be able to participate in some of the public benefits of the Ranch Plan that have been promised.  Open space is probably the most important public benefit resulting from the Ranch Plan.  There is very little else that is being offered to the general public in exchange for the burdens being placed on regional roads, infrastructure, schools and public safety.  It would be unfair to allow the developers to privatize the one public benefit arising out of the Ranch Plan.
Second, open space doesn't exist in a vacuum.  Orange County has worked hard to create a complex and interconnected network of regional parks and trails.  In fact, Rancho Mission Viejo is promoting its project as part of a greater "S.O.C." (South Orange County) lifestyle, where one can bike west from Sendero to Doheny Beach along the San Juan Creek trail.  How disingenuous would it be for most of the new Rancho Mission Viejo open space to be off limits to those who might venture east?  Consider the map below, showing the anticipated size of the Reserve at Rancho Mission Viejo and its relationship to adjacent open spaces: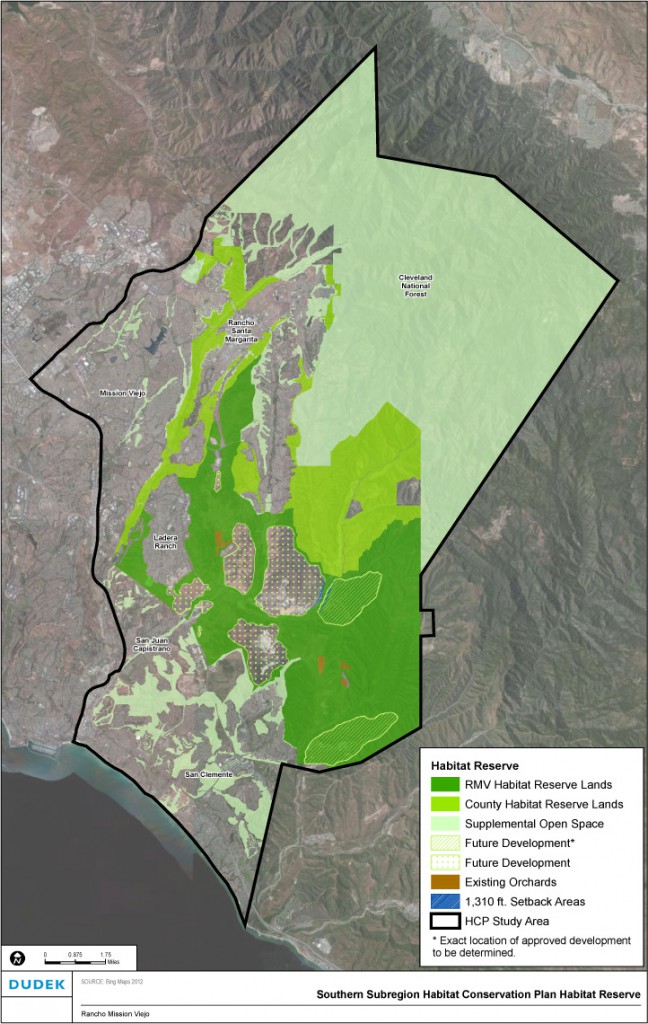 It is easy to see how the Reserve is part of a larger concept that preserves ecosystems, provides wildlife corridors and yes, facilitates recreation.  The Ranch open space must remain open to all, or it diminishes the value of Orange County's other open spaces and trails.
Finally, hording private open space is at odds with the public interest.  When the Ranch was just that – a private working ranch – it made sense to maintain the land as private space.  But Rancho Mission Viejo is now a master developer, which means their actions impact the public sector.  Rancho Mission Viejo needs to view open space as a public asset to be made available, not a private asset to be coveted and only reluctantly shared.  The notion that natural spaces of this magnitude can be fenced in and treated like the HOA community pool is misguided.  Rancho Mission Viejo isn't merely selling homes, they are creating a city – a city that must coexist harmoniously with its neighbors, sharing the resources of this area with the public and ensuring that all south Orange County residents can enjoy the quality of life that makes living here so special.
To do anything less would be "Inconceivable!"